---
---
We spoke with Antwerp based muse Morgane Van Marcke, to talk about her passion for plant based food, explore her style and discuss what modern femininity means to her.
---
Could you tell us a little bit about yourself?
I am 26 years old and live in Antwerp with my husband. I run a plant based recipe and lifestyle platform called Humbly By Morgane, besides that I just founded a tableware brand called Ceremony, where I design table linen and ceramics. I have a passion for every aspect of hosting. I love cooking healthy, tasty and nourishing food for friends and family. On the other hand I also love setting a beautiful table and serving my food in an aesthetically pleasing way.
---
How did your cooking journey with Humbly begin?
It started out right after I became vegan, as an Instagram page where I shared recipes with friends. I felt like many people were still a bit scared of the idea of eating solely plants and I wanted to change their vision on this matter. After a few months I decided to launch a website with recipes and lifestyle content and I got a book deal with a Belgian publisher. I could not believe that it all happened so fast. Today I'm working on my second book which will come out in October. This book will be called "Dinner Served: the art of hosting and plant based cooking", again focussing on my two biggest passions.
---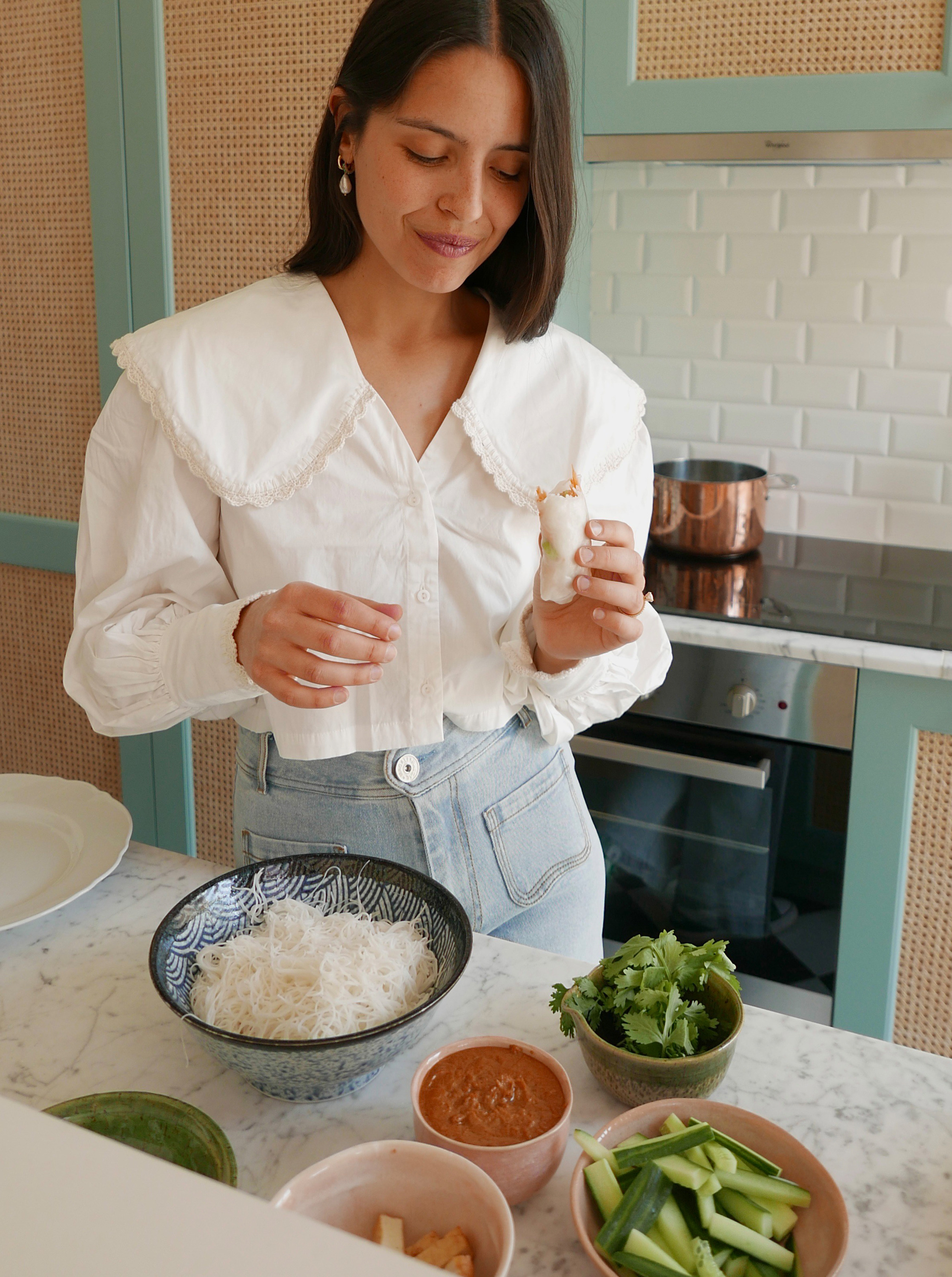 ---
How would you normally spend the day in Antwerp?
I would start off my day with a reformer pilates session at The Brick, afterwards I'll grab a quick coffee with my pilates girlfriends. I will then visit my store in Antwerp called "The Corner Shop" which I run with my two best friends Ellen and Marie, the founders of Rosie Antwerp. When I have the time I will go get fresh bread, veggies and flowers at our local food market and spend the rest of the day creating recipes for Humbly or designing collections for Ceremony. Ideally I would end the day with friends with a drink at my local coffee and wine bar called Luddites.
---
---
What inspires you in terms of your fashion style and creating new recipes?
I get my inspiration by looking at what happens around me at any given moment. In terms of fashion I get inspired by beautiful women who have a lot of personal style, it pushes me to dig a little deeper into my own personal style. In terms of recipes I get inspired by others as well; sometimes it comes from restaurants I eat at and other times from exciting dishes I see on social media or in other cookbooks. You should not be afraid to look at others for inspiration,for me it enhances my own creativity.
---
What do you love to do in your spare time?
I don't have hobbies, well I do but I have turned them into my career, so in my spare time I love to make time for my friends and family. Ideally I'll spend my free days at the Belgian coast, where I get a true feeling of relaxation. I turn off my computer and go for walks on the beach.
---